6 Mouthwatering Restaurants Near Navy Yard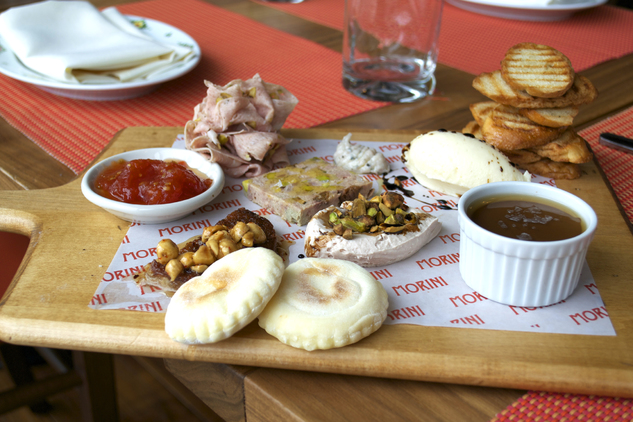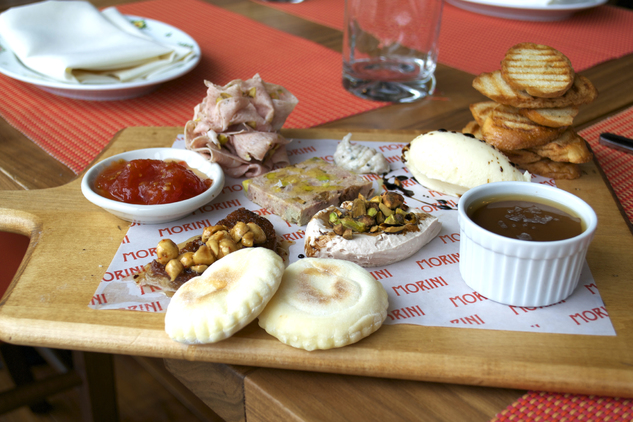 It's no secret – Navy Yard is booming. The waterfront neighborhood is quickly becoming a hot destination for DC residents. One of the many reasons living in Navy Yard is so convenient is the food – you never have to travel far for brunch, cocktails, or a date night in DC. From casual to elegant, here are our favorite restaurants in Navy Yard.
1. Osteria Morini
One of the best Italian restaurants in DC is easily within reach in Navy Yard. Osteria Morini whips up traditional Italian pasta, like tagliatelle and carbonara.
They have a killer charcuterie and big wine list, so this is the perfect spot for appetizers and drinks with friends. One of their most popular dishes is the tagliatelle with ragu. Paired with a glass of red, you'll be transported to Tuscany. If you snag a good seat, you can have a gorgeous view of the sun setting over the Anacostia. You can also amble down to the Yards Park after dinner to walk off your wine.
2. Pineapple & Pearls
Ok, so Pineapple & Pearls is technically a little north of Navy Yard – but at a quick 15-minute walk from Insignia on M, it's the perfect spot for a sandwich and espresso without having to deal with the lines at Starbucks. Their fried chicken roll is killer for brunch or lunch, and their coffee is top-notch.
They have specialty dishes available on Saturdays as well. Keep an eye out for the Brisket Roll. It's hearty, filling, and the perfect excuse to eat brisket before noon. If you feel like splurging, Pineapple & Pearls also offers an exquisite tasting menu that's one of the best in the city. You can check out those details here.
3. Scarlet Oak
Scarlet Oak is the perfect place in Navy Yard for a boozy brunch. Specializing in cocktails, they whip up bellinis and bacon bloody marys to pair with Nutella crepes, brunch pizzas, and benedicts. There's also bottomless mimosas for $16!
In the evening, Scarlet Oak is a wonderful place to stop in for a cocktail before dinner, or a trip the theater. Their bartenders serve up classic cocktails at the bar, and you can't beat their happy hour deals. You can catch bourbon, wine, and mules on special throughout the week.
4. Cornercopia
How many neighborhoods can actually brag about their corner deli? At Cornercopia, there's none of the soggy bread and bland toppings you've come to expect from a tiny grab and go sandwich shop. Instead, there's fresh rolls and rye bread topped with every sandwich combination you can think of – BLT's, chicken salad, and traditional meat and cheese. Cornercopia is the perfect place to grab lunch on the go in Navy Yard. It's close to The Yards park, so on a warm day, you're an easy walk to a lovely picnic in DC.
5. Ice Cream Jubilee
There's nothing like ice cream on a warm day in DC. But even as the weather turns chilly, Ice Cream Jubilee serves up scoops of seasonal flavors like pumpkin honeycomb and caramel popcorn for a truly unique ice cream experience.
When you're craving ice cream and Ben & Jerry's just won't do, stop by Ice Cream Jubilee in Navy Yard for a scoop (or three) of the good stuff. It's just a seven-minute walk from us at Insignia on M.
6. Whaley's
There's no better spot for seafood in Navy Yard than Whaley's. For lunch and dinner, they serve up traditional and unique seafood dishes, like seafood risotto, softshell crab, and grilled monkfish. They have a wonderful seafood-packed brunch, with options ranging from raw oysters and sashimi to shrimp and grits.
The interior of the restaurant has impressive high ceilings and a large, U-shaped bar in the center of the restaurant. The bar is a perfect place for a plate of oysters and a few cocktails or glasses of wine with a date. Plus, a recently opened patio means evenings overlooking the Anacostia waterfront!
Navy Yard is home to an incredibly diverse group of restaurants, and when you live at Insignia on M, you can be right in the middle of it all. Check out our luxury apartments in the heart of Navy Yard, complete with stunning kitchens for nights when you just want to stay in!
Photo credit: Anthony Jackson